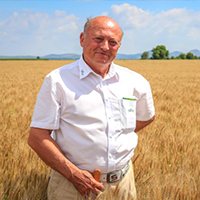 Lucian Buzdugan, Aldahara Agricost Group supervisor
THE SILOBAG, PERMANENT TECHNOLOGY IN THE BRAILA BIG ISLAND
"Now I can speak from experience, and the results obtained with silobag system made me change the technology. Just as each of us has the technology of sowing, weeding, treatments, harvesting, we also use silobag storage technology. We no longer conceive growing wheat, corn, barley, soy, without the silobag."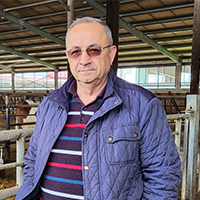 Alexandru Baciu, farmer who developed an integrated business
CRIMPING STORED IN SILOBAG FOR 2 YEARS
"The silobag system helped me enormously in the process of feeding the dairy cow. With it's help, I managed to store crushed corn or crimping, which is one of the most complex products, having the highest degree of assimilation. When you add crimping to cows' feed, you are sure that the digestion percentage is 99% and thus there are no more losses. I prefer to place these giant bags on a bed of sand and gravel. That way, I can download them easily, even when it's raining. We also tried to storage for longer periods of time, for example one year or even two years and the results were really good."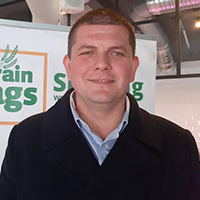 Alexandru Haită, farmer and the initiator of Tinoasa Cooperative Teleorman
I HAVE BEEN USING THE SILOBAG SYSTEM FOR MORE THAN 5 YEARS
"In 2021, we stored 3,500 tons of wheat, 600 tons of sunflowers, 450 tons of rapeseed, plus another 1,200 tons of rapeseed for other farmers. All this, using the silobag system. I have adopted this method of storage for more than 5 years and I can say that the grain is the same both when loading and unloading. It is good to know that grains of different qualities can be stored in silobags, in different sections. In the giant bags the humidity doesn't even out. You can have, for example, 14% at one end, halfway through the bag 10% and then at the other end, 12%."